News & Shows
Royal Melbourne Show 2019
Congratulations to Exhibitors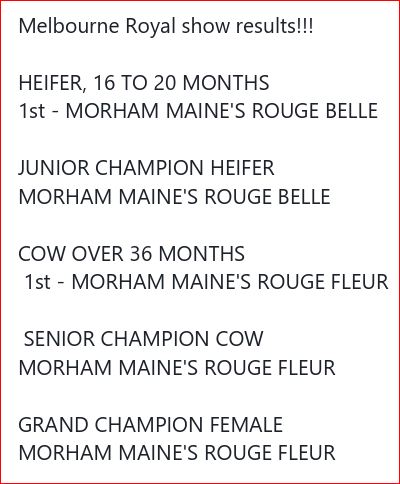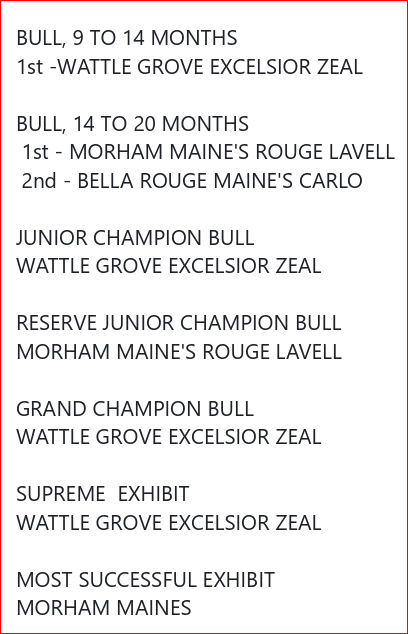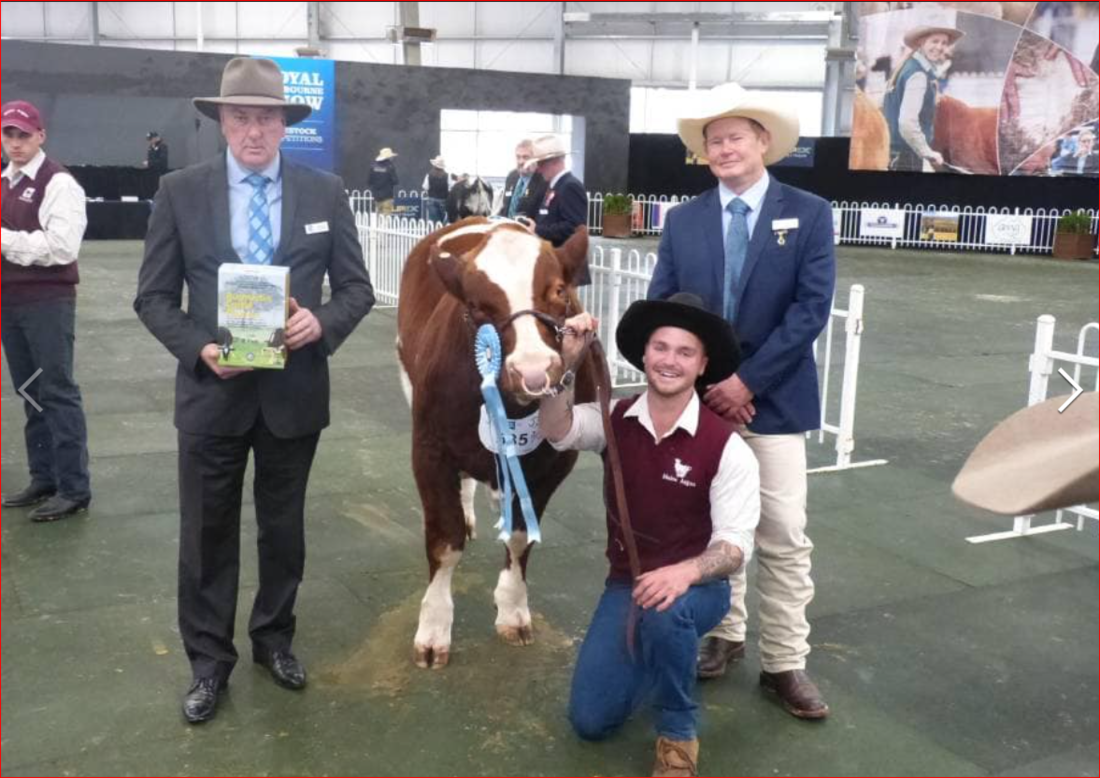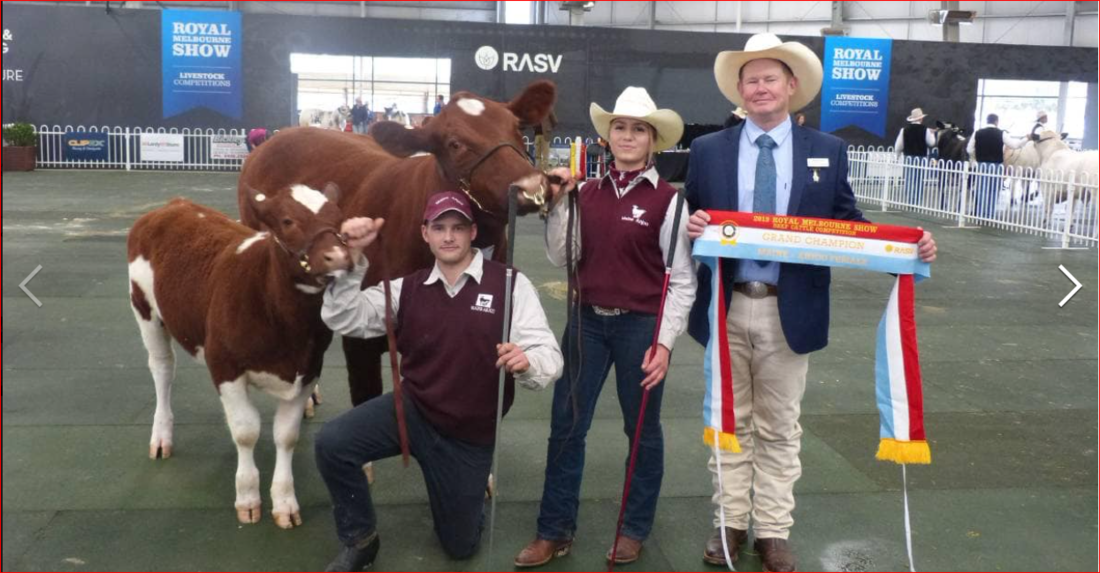 2019 SYDNEY ROYAL SHOW
The Maine Anjou breed was well represented at Sydney Royal this year with all cattle shown a credit to the breeders on their presentation, especially while experiencing a very long dry spell. Congratulations to Scott Costello of Wattle Grove stud exhibiting the Reserve Junior Champion Bull. Wattle Grove Echo's Attraction(BL). Senior and Grand Champion Cow, Wattle Grove Charlotte, a 2 year old with an outstanding 5 month old calf at foot. Uandi Maines exhibited the Junior & Reserve Heifer, Uandi LP Adelaide and Uandi Erudi Steff respectively. Junior Champion bull, Uandi Ebony Lad(BL). Senior and GFrand Champion Bullo Uandi Colossus who was also awarded Supreme Exhibit.
The judge, Mr. Lester Job, said that he considered the Senior Champion Bull to be a free moving Bull as well as having a good fat cover, a soft skin and nice muscle pattern. he said that the Senior Champion female was a nice classy cow, structurally correct with a nice udder and had an impressive calf at foot. He believed both Grand Champions were good enough to move up the line in the interbreed classes at the end of the show.
The Maine Anjou Society would like to thank Mr. Job for giving his time to judge our breed, with well placed comments on his placing's and spending time back in the shed, after judging with exhibitors.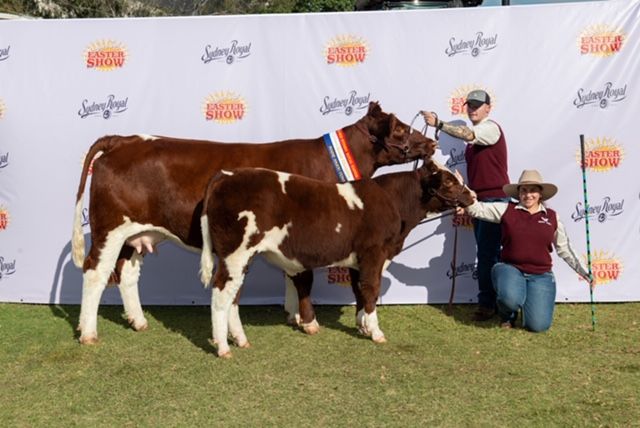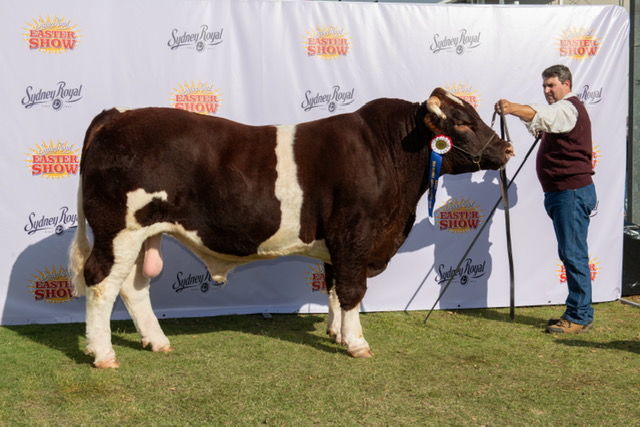 "FARM WORLD" LARDNER PARK 2019
while Sydney Royal Show was in full swing for some of our New South Wales members, Farm World in Lardner Park Victoria was also on the agenda for some of our Southern members. this year caused a schedule clash with Sydney Royal and Lardner Park on at the same time.
Lardner Park is an excellent opportunity for our members to talk about everything Maine Anjou.
Farm World is Huge and there is much to see and do, the cattle that is exhibited attract a lot of public interest and generated curiosity about our great breed.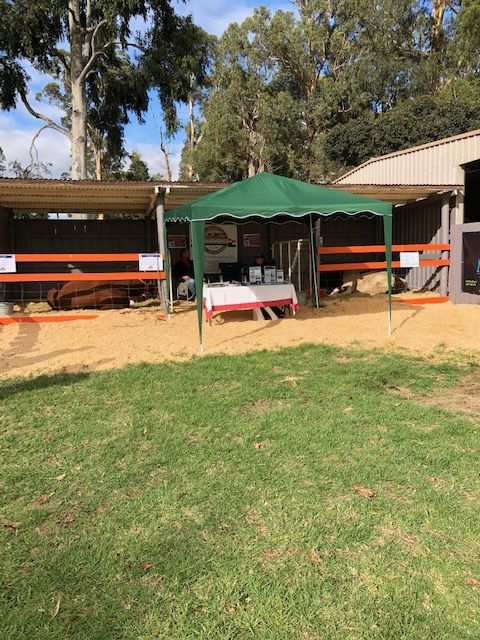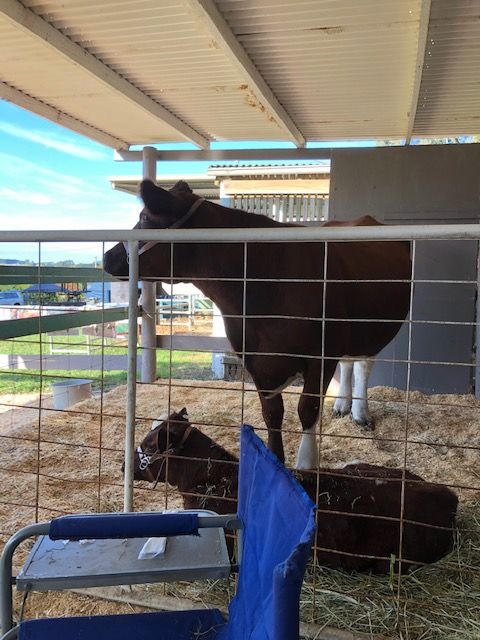 Upcoming Events

Morham Maine's Beef Week "Day 2" Thursday January 30th 2020
Royal Canberra Show 28th February- 1st March 2020...ENTRIES NOW OPEN
Lardner Park "Farm World" Thursday 26th March-Sunday 29th March 2020
Sydney Royal Show Friday 3rd April-Tuesday 14th April 2020...ENTRIES NOW OPEN
News Article